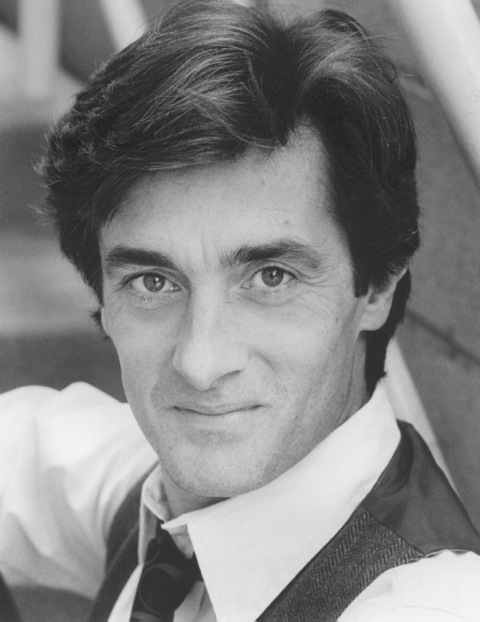 ROGER REES was born in Aberystwyth, Wales on May 5, 1944, and grew up in South London.  It was a rough neighborhood and Roger went to a tough school.  His father was a cop, but Rog wanted to be an artist – and he very quickly found his calling (and safety from the tough kids) in the Art Room.
So gifted at painting was Rog, that he received a full scholarship to Camberwell College of Art. After a year, he was encouraged to send examples of his work to the finest Art School in Britain, and maybe Europe, the Slade School of Fine Art.  Roger sent his portfolio to the Slade when he was 17, and was granted, a second time, a full scholarship.
Beyond that endorsement, Rog received additional proof of his talent when his portfolio was returned.  Every sketch and painting had been taken.  The only thing inside the portfolio was Roger's acceptance letter.  And he was in.
The next fall at the Slade, Rog expected to find some of those early works hanging – rather too beautifully framed – in one of his professor's rooms.  That didn't happen; what did happen was that Roger's father died in Roger's third year, forcing him to drop out of school to support his mother and younger brother.
One of his professors at the Slade was the brilliant scenic designer, Nicholas Georgiadis, who designed sets for the Royal Ballet, principally for Kenneth Macmillan.  Georgiadis got Roger a job painting scenery for the Margot Fonteyn/Rudolf Nureyev Romeo and Juliet and Sleeping Beauty.  Parts of those sets are still in rep at the Royal.
To supplement that work, Rog painted theater scenery all over Britain, eventually working very close to home in South London at the Wimbledon Theater, within earshot of the tennis stadium that Rog and his mother used to sneak into when he was a boy.
He was on a paint frame, suspended forty feet above the stage, painting a cloth for a toy-shop scene in the Christmas pantomime, Babes in the Wood, when the theater's actor/manager, Arthur Lane, shouted up to Roger that he needed a young lad to step in to replace an injured cast-member.  Roger fit the costume, and he was suddenly an actor.  He wasn't nervous.  He learned to be nervous later.  And he never painted scenery again.
In 1966, Arthur Lane urged Roger to audition for the Royal Shakespeare Company. He didn't get in.  His voice was too weak.  A fine artist, Roger realized, is represented by his work; his paintings and lithographs speak for him. Turns out you need a real voice to become a real actor.
So Rog went away to Scotland to make scenery and props, and made himself useful as a stage manager, and once again, one of the actors was injured and couldn't carry on, so Roger found himself playing Yasha in Cherry Orchard, and Bruno in Dear Charles, the front half of a dancing cow in a pantomime, and lots of other young men's parts.  It was up there in Scotland, that Roger learned how to speak, and to speak up for himself.  He got a little better, a little more confident, a little more handsome, and at the end of that year, 1967, he auditioned again for the RSC.
This time, he got in.
His first role was a non-speaking Hunstman in The Taming of the Shrew – thus beginning his lifelong passion for Shakespeare.  He worked his way up over the course of 22 years with the company, playing roles including Graziano in Merchant of Venice, Roderigo in Othello, Aguecheek in Twelfth Night, and eventually became one of Trevor Nunn's leading actors – playing Antipholus in Comedy of Errors, Semyon in The Suicide, Berowne in Love's Labour's Lost and Hamlet.  His most famous role for the RSC is the title role he created in The Life and Adventures of Nicholas Nickleby.
For the role of Nicholas Nickleby, Roger won the Olivier Award in London, the Tony Award in New York, plus an Emmy nomination for Best Actor.  Roger continued as an Associate Artist of the Royal Shakespeare Company for the rest of his life.
During the 1980's in London, Roger created the starring roles of Henry and Kerner, both opposite Felicity Kendal, in Tom Stoppard's The Real Thing and Hapgood, and played opposite Jane Lapotaire in his own thriller, Double Double, co-authored with Rick Elice.
In 2010, Roger returned to London to play Vladimir opposite Ian McKellen's Estragon in the critically acclaimed production of Waiting for Godot at the Theatre Royal, Haymarket. The production toured throughout Australia, New Zealand and South Africa.
On and Off-Broadway, Roger Rees appeared in London Assurance with Donald Sinden, Nicholas Nickleby, Indiscretions with Kathleen Turner, Eileen Atkins, Cynthia Nixon and Jude Law (Tony, Drama Desk nominations), John Robin Baitz's The End of the Day (Obie Award), Uncle Vanya with Derek Jacobi and Laura Linney, The Uneasy Chair with Dana Ivey, The Rehearsal with David Threlfall and Frances Conroy, The Misanthrope opposite Uma Thurman, the world premiere of the Terrence McNally/Lynn Ahrens/Stephen Flaherty musical, A Man of No Importance with Faith Prince, Steven Pasquale and Sally Murphy, as Gomez opposite the Morticias of Bebe Neuwirth and Brooke Shields in The Addams Family, and as Arthur Winslow in The Winslow Boy with Mary Elizabeth Mastrantonio and Alessandro Nivola.
Some of his films are: The Ebony Tower (opposite Laurence Olivier), Mel Brooks's Robin Hood: Men in Tights, Bob Fosse's Star 80, Julie Taymor's Frida, Christopher Nolan's The Prestige, Peter Greenaway's A Life in Suitcases, and Richard Squires' Crazy Like a Fox, opposite Mary McDonnell.
Known to television audiences as Lord John Marbury on The West Wing and Robin Colcord on Cheers, Roger also played Dr. Colin Marlow in Grey's Anatomy and has appeared in OZ, My So-Called Life, MANTIS, Warehouse 13, The Good Wife, Elementary and such television movies as The Crossing, Double Platinum, Titanic and Liberty.  On Thanksgiving 2015, he was seen on PBS in his final film role in Ric Burn's documentary, The Pilgrims.
From 1986-88, Roger served as Associate Artistic Director of the Bristol Old Vic where he directed, among others, Julius Caesar, Turkey Time and John Bull.
In America, Roger directed Red Memories (NYSF), Mud, River Stone (Playwrights Horizons), The Merry Wives of Windsor, Love's Labour's Lost and Dog & Pony (Old Globe), Arms and the Man (Roundabout), and an episode of HBO's OZ.
Roger, for three very happy years (2005-2007), was the artistic director of the Williamstown Theatre Festival, where he directed The Rivals, Robbie Baitz's The Film Society, Simon Grey's The Late Middle Classes, Cole Porter's Anything Goes, Herringbone starring BD Wong, and Double Double with Matt Letscher and Jennifer Van Dyck.  He also directed The Taming of the Shrew, in which he played Petruchio opposite Bebe Neuwirth's Katherine.
With the much-loved Collegiate Chorale (now Master Voices) at Lincoln Center, Roger directed Scott Joplin's Treemonisha, Philip Glass's Juniper Tree, Gershwin's White House Cantata and Kurt Weill's Firebrand of Florence. He conceived and directed Here Lies Jenny starring Bebe Neuwirth, with choreography by Ann Reinking, which ran successfully in New York and San Francisco.
In 2011, Roger and Alex Timbers teamed to direct Peter and the Starcatcher by Rick Elice, based on the novel by Dave Barry and Ridley Pearson, at New York Theater Workshop.  They won the Obie Award for Outstanding Direction.  In 2012, the play opened on Broadway, garnering more Tony nominations (nine) than any new American play in the history of the Tony Awards, including one for Best Direction of a Play, and winning five awards.   Their production played on and off Broadway for two years, and enjoyed a successful national tour in 2013-14.
In the fall of 2012, Roger took his one-man show, What You Will – devoted to his life and adventures with William Shakespeare – to London's West End.  The show, which Roger toured for years throughout the US, premiered in 2006 at the Folger Shakespeare Theatre in Washington, DC.
In the summer of 2014, Roger starred opposite Chita Rivera in the Terrence McNally/John Kander/Fred Ebb musical, The Visit, directed by John Doyle and choreographed by Graciela Daniele.  On April 23, 2015, The Visit opened on Broadway.  It was Roger's last show.  After a year-long battle with brain cancer, Roger passed away at his home on July 10, 2015.  The time was 8pm – curtain time.
On November 16, 2015, Roger was inducted into The American Theater Hall of Fame.
In 1982, Roger met Rick Elice.  They were together as a couple ever since, and married legally in 2011.